Jammu district derives its name from the city of Jammu which besides being the winter capital of the state, is known as the city of temples. It is believed that the city was originally founded by Raja Jamboo Lochan who lived in fourteenth century B.C. The Raja had gone out one day for hunting when he happened to witness a tiger and a goat drinking water from one and the same pond. This extraordinary phenomenon set him thinking and he decided to build a city at this site so that the strong and weak could live together in peace and mutual tolerance. Eventually, he founded the city which came to be known as "Jamboo" after his own name. With the passage of time and due to its frequent use the pronunciation of the name got slightly distorted and the city came to be known as ' Jammu' as it is called now.
PLACES OF INTEREST

Peer Khoh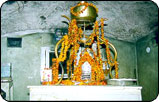 This cave shrine is located 3.5 kms from Jammu town. This shrine is dedicated to Shiva and a naturally formed Shivaling is worshipped here. The antiquity of this lingam is not known. Peer Khoh is situated near the circular road. It is said that this cave gives way to other underground caves and shrines, some of which are even located outside India.

Ranbireshwar Temple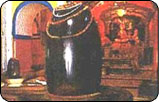 This temple was built by Maharaja Ranbir Singh in 1883 A.D. This temple again is dedicated to Lord Shiva and a Shivaling is worshipped in the temple. Ranbireshwar Temple is located near the new secretariat on the Shalimar Road. The main Shivalingam in the temple is seven and half feet in height surrounded by many small crystal Shivalings. The galleries with thousands of Shiva 'lingams' gives temple unique look.

Raghunath Temple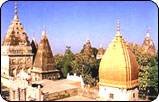 This temple is dedicated to Lord Rama. Raghunath temple is very unique and outstanding in the very basic structure. The inner walls of temple is covered with gold sheet on three sides. The galleries of the temple is covered with lakhs of 'Saligrams'. The surrounding temples is dedicated to other God and Goddess from the epic of Ramayana. The temple is located in the heart of Jammu. Construction of the temple was started in 1835 by the founder Jammu state, Maharaja Gulab Singh. But he could not complete the temple and his son, Maharaja Ranbir Singh finished it in 1860.

Ranbir Canal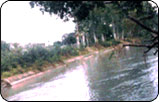 A cool picnic spot some 2 kms from Jammu.These gardens are located on banks of a canal which branches from River Chenab. These gardens provide excellent walk ways and viewpoints of the surrounding areas. Even in summers, water in the canal remains ice cold.

Bahu Fort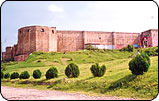 The original fort was built by Raja Bahulochan some 3,00 years ago but it was modified and improved by Dogra rulers. This fort is perhaps the oldest edifice in Jammu. It is located 5 kms from the city. The fort is built on rocks facing the Tawi river. A temple dedicated to Goddess Kali is also inside Bahu Fort. Close to Bahu fort are exquisitely laid gardens. From these gardens one has a very exclusive view of Jammu. Behind the fort is a forest cover which surrounds Maha Maya temple. Acres of woods provide a good back drop to the city. The temple overlooks the Tawi river.

Peer Baba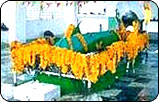 This is the famous dargah of the Muslim saint, Peer Budhan Ali Shah. On Thursdays apart from Muslims, Hindus and Sikhs also come in large numbers to pay respect to the Saint.

Mubarak Mandi Palace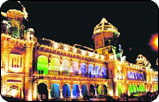 The architecture of this palace has a unique blend of Rajasthani, Mughal and even Gothic styles.The palace complex dates back to 1824 A.D. The Sheesh Mahal segment in the palace is most famous. The pink hall has now been converted into the Dogra art museum. This museum is a treasure house of miniature paintings from the various hill schools.

Katra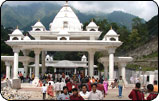 Katra acts as a base camp for pilgrims and tourists going for the Vaishnodevi shrine. Katra is 50 kms from Jammu. It can be approached by road which passes through a stretch of beautiful valley. At Katra there is accomodation facilities available for the pilgrims going to the shrine. J&K TDC have tourist bungalow as well as private accomodation is also there.

Patnitop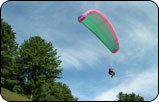 Patnitop is the most popular tourist spot of Jammu region. Located 112 kms from Jammu this famous hill resort is perched on a beautiful plateau, at an altitude of 2024 metres across which the Jammu-Srinagar Highway passes. It has lush green meadow and pine trees which resembles with Gulmarg. Patnitop offers beautiful picnic spots, peaceful walks and breathtaking views of the mountains cape of the Chenab basin. In winter, it is covered with a white carpet of snow and its slopes have been successfully experimented for skiing. Skiing courses are conducted at Patnitop in the months of January and February. During winter months there are introductory courses for tourists / beginners at gentle gradient slopes of Patnitop. At Madhatop (5/6 Kms from Patni top on Sanasar Road) excellent possibilities for all kind of skiing exist. Skiing equipments and wooden sledges are available on hire at Patnitop and Sanasar

Kud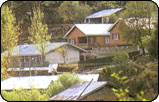 At an altitude of 1738 meters is a hill resort called Kud. This hill station is located 106 kms form Jammu, on the Srinagar highway. Kud became a popular tourist destination after militancy started in Srinagar. In fact Kud was considered as a good replacement for Srinagar. Natural beauty in Kud exceeds any type of description. This place is also good for small treks and options for adventure sports are being considered in the nearby areas. The accommodation available here is in the hotels and guest house by JKTDC. But there are many private accommodation facilities available too.

Sanasar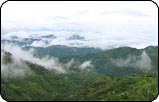 A large lush green meadow, huge conifers-- this is Sanasar. This enchanting place is just 17 kms from Patnitop. So tourists to Patnitop generally visit Sanasar. This place is ideal for paragliding and the meadow is being developed as a world class golf course. Sanasar provides a peaceful holiday opportunity. There is accommodation facilities provided by JKTDC in its huts, dormitories and tourist bungalows.

Batote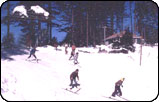 This place is also located on the Srinagar highway. Batote is 125 kms from Jammu on Patnitop slopes. This tourist destination is surrounded by thick forest and overlooks the Chenab gorge. The view of the valley from this place is very exciting and enthralling.


Sudh Mahadev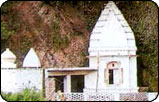 Every year on the full moon day in the month of Savan ( according to Hindi calender) pilgrims come here in huge numbers to worship the tri shul (trident) symbolising Lord Shiva. Sudh Mahadev is an important pilgrimage in the area. From here Devak stream originates and disappears after some distance. This holy place is near Patnitop and is 120 kms from Jammu. Near Sudh Mahadev is Gauri Kund. It is said that Parvati used to take her bath here before going to Sudh Mahadev for prayers. A few kms from Sudh Mahadev, at an altitude of 2000 meters is another pond surrounded by lush green deodar trees. These huge trees lend amazing beauty to the region. Legends say that here Lord Shiva married Parvati.

Mansar Lake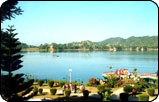 Mansar Lake is 60 kms from Jammu and is a pleasing respite from the daily rush of city life. This picturesque lake is surrounded by hills which are covered by green forests. Tourists can spend few days in peace and calm, enjoy boating in the lake. The JKTDC has good accomodation facilities. Around Baishaki a food and craft fair is organised at Mansar.

Surinsar Lake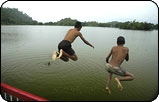 A picturesque picnic spot 42 kms from Jammu.

Shiv Khori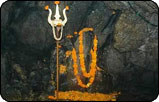 This is a holy cave having a naturally formed Shivling (Phallus). Shiv Khori is 100 kms from Jammu . This place is very sacred and is next only to Vaishnodevi. A festival is organised on Shivratri day.

Dera Baba Banda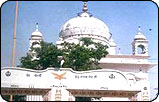 Baba Banda Bairaagi,a favourite saint soldier of Guru Govind Singhji, built a Gurudwara on the Banks of Chenab. He spent his last days here. This place is considered as a major pilgrimage center for Hindus and Sikhs. 75 kms from Jammu.

Purmandal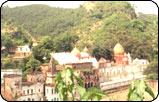 As we proceed from Pathankot towards Jammu on the highway itself are located few ancient temples. Itis believed that these temples are built on banks of underground river Devak. Also referred as 'Chota Kashi', the main temple here is dedicated to 'Umapati' and in rest Shiva is worshipped. These temples were built by the Shaivites of Kashmir Valley. 40 kms from Jammu.

Krimchi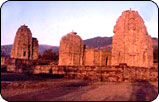 These are sites for the three oldest temples in the Jammu area. The architecture of these temples interestingly show a distinct Greek influence. It is on the way to Sudh Mahadev-Mantalai.

Jajjar Kotli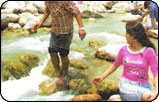 Jajjar Kotli is a tourist resort which is located on the banks of Jajjar river. This place is 35 kms from Jammu on way to Srinagar. The crystal clear cool water surrounded by a unprecedented natural beauty makes this place ideal for picnickers.

Akhnoor
This town is related with the legend of Soni-Mahiwal. Akhnoor is located 32 kms west of Jammu. This a historic town. Ruins of the Indus-valley civilisation is spread along the river Chenab. The whole area commands a panoromic view. A nice place to be in.

Salal Dam and Lake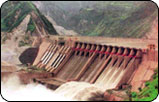 This is site for the largest hydro electricity project in the state. Is located 95 from Katra. The lake formed due to the dam is 33 kms. and this site can be visited with the permission of project authorities.

Baba Dhansar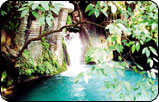 A marvelous picnic spot with a huge spring oozing out from the mountains. The whole area is covered by thick grove of trees. The spring then form waterfall and flows into the holy Banganga. Next to the tree groves is a naturally formed Shivaling with water dripping on it throughout the year. This place is 65 kms from Jammu. Every year a mela is organised on Shivratri day.
Top