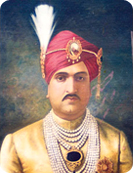 Situated in the northern part of India, Jammu and Kashmir is the essence of everything that is Indian, its culture, history, tradition, people and natural splendour. In the early Nineteenth century

Maharaja Hari Singh

built a majestic palace by the banks of river Tawi which overlooked the city and had a panoramic view of the Trikuta hills.

One of the most illustrious king to rule the state of Jammu and Kashmir for 22 years (1922-1947) was Maharaja Hari Singh. A secular, social reformer and patriotic ruler, Maharaja Hari Singh madeconspicuous contribution to the state

.

Christened Hari Niwas Palace this majestic structure overlooks the Tawi river valley on one side and Trikuta hills of the Vaishno Devi shrine on the other. Hari Niwas Palace is now looked after by

Maharaj Kumar Ajatshatru Singh

and

Kumarani Ritu Singh

, grandson and daughter in law of Maharaja Hari Singh. The couple has painstakingly got the architects to retain the architectural frame of the palace. Nestled among Mango groves and lush green lawns the hotel has played host to several distinguished guests and is the only luxury heritage hotel in the entire state of Jammu and Kashmir.

The Hari Niwas Palace is an art-deco structure. Hari Niwas Palace was converted into a heritage hotel in the year 1990. Within the 50 acre palace complex exists the magnificent Amar Mahal Palace Museum which was conceived by Maharaja Amar Singh.